Tourism & Disability label
Add to favorites
As a tourism professional, would you like to find out about the brand?
The Bénodet Tourist Office has been labeled Tourisme&Handicap for the 4 disabilities since 2009. It had this label renewed in 2014 and 2017.
The following services are available to holidaymakers: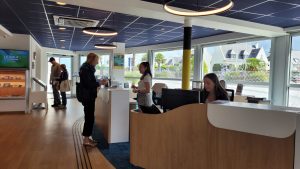 An accessible parking space
Sanitary 10m from the tourist office
Level access to the tourist office with adapted furniture
A magnetic loop for the comfort of the hearing impaired
A presentation of Bénodet and its main equipment in Braille
A guide listing the tourist offer accessible in the town: Census of the tourist offer 2023
An enlarged map of the city center: Bénodet Tourism&Handicap map.
Staff trained in welcoming people with disabilities.

For tourism professionals, the Tourisme et Handicap brand is first and foremost recognition. It validates efforts in terms of accessibility and welcoming specific customers with disabilities.
All those who have asked to be labeled assert themselves as players and ambassadors in welcoming people with disabilities. Their choice in favor of this specific public goes hand in hand with a perfectly reasoned commercial reflection. Through the Tourism and Handicap brand, they highlight a significant competitive advantage at national, European and international level.
The presence of the Tourisme et Handicap brand on each of their documents allows them to meet a clientele with specific expectations but looking for stays in Bénodet.
How to obtain this label as a professional?
Other information is available on the website of the Direction Générale des Entreprises
Do not hesitate to come back to the team of the tourist office for additional information.