Request your guest card
Add to favorites
As a valued guest in Bénodet, you can ask for a Guest Card to give you access to special offers. Start getting the VIP treatment!
Who is it for?
If you're eighteen or over and spending at least one night in Bénodet in a tourist establishment, you can ask for this FREE card to use during your stay.
Where can I get my guest card?
Come and see us at the Tourist Office or at one of our hosting partners. You can contact us for a full list.
How do I use it?
To take advantage of the offers, simply show your guest card when you visit any of our partners.
You are a valued guest and we're happy to prove it!
What does it look like?
The card is in the format of a loyalty card. It is personalized on the back by the partner. The card is unique and cannot be replaced if lost.
Map
---
Display stand
You'll see this display stand when you visit our Guest Card partners and accommodation providers.
---
The leaflet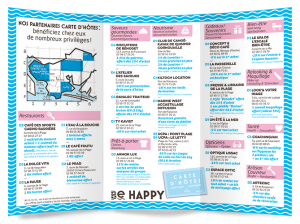 LIST OF 'GUEST CARD' PARTNERS
Restaurants
Crêperies
Treats & specialities
Clothing
Boating
SOUVENIRS & GIFTS
WELL-BEING
MAKEOVER & MAKEUP
Artisans
opticians
TO TAKE AWAY
LEISURE ACTIVITIES
HEALTH