Request the guest card
Add to favorites
Are you staying in Benodet? Many privileges are offered to you thanks to the guest card. Don't wait any longer and request yours!
For who ?
You are of legal age and sleep at least one night in Bénodet in a tourist establishment. This card is made for you, FREE and valid during your stay.
Where can I get the guest card?
Come and see us at the Tourist Office or at one of our hosting partners. To know them, please contact us.
How to use it ?
Take advantage of the advantages with our partners of the operation, by presenting your guest card.
You are a unique holidaymaker and our partners will be happy to let you know!
How does she present herself?
The card is in the format of a loyalty card. It is personalized on the back by the partner. The card is unique and cannot be replaced if lost.
Map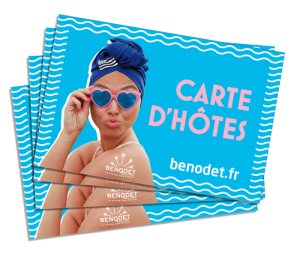 ---
The display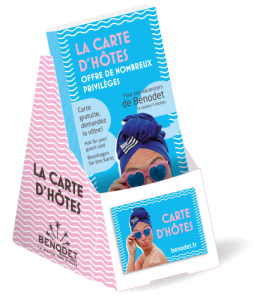 It is present with the various "Guest Card" partners and Bénodet hosts.
---
The booklet
LIST OF PARTNERS CARD OF GUESTS
Restaurants
Pancake
GOURMET FLAVORS
Ready to wear
Boating
SOUVENIR PRESENTS
WELFARE
MAKEOVER & MAKEUP
Artisans
opticians
TO TAKE AWAY
LEISURE/DISCOVERY